May 10, 2008 in Family, Kamil, Photos, Travel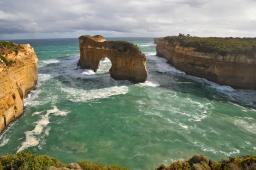 I added the first set of photos from our Australian trip in the Photo Gallery. I also changed the photo layout a little bit since we are going to have dozens of galleries. I took off the links to individual galleries from the first page menu (on the right) and created one album page instead where they all will be visible.
There are about 470 photos in this first set and they include some photos from the airport and the rest are already in Australia. A couple photos on the way from Melbourne to Ballarat where we stopped at an Wildlife Park that had all of the unique and native Aussie animals in one place and guaranteed that the kids will see everything from koala to wombat and kangoroo. Then there are some photos from the Great Ocean Road where we spent the night at a B&B in the town of Lorne.  At the very end a few photos from our return to Melbourne that night.  There are very few pictures of Melbourne as we left for the Great Ocean Road straight from the airport and then the next day we went to friends' house for dinner straight from the road. So basically the only time we were able to spend in Melbourne was driving and the only pictures I took were from the car :) You can see some of the experiments with street lighting in the last photos of this set. I will add a decrtiption to the galleries to explain a bit about each of the stages of the trip and the places in the pictures.
For some techincal info. One I figure out how to extract the EXIF data from the images and include them as part of the description you will be able to see the exact camera settings that were used to take each picture. As to the presentation, this is not yet the final look and I will be changin the CSS as well as the presentation method soon. I am also in the process of creating a favorites as well as "other media" galleries that will include movies and quicktime panoramas and will be presented using Adobe Flash. For now, enjoy the photos :)