Oct 25, 2007 in Kamil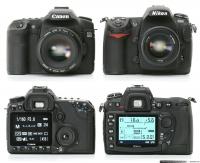 After my Nikon D200 system with the lenses and accessories has been stolen during a burglary  in August I've decided to wait for the D300 rather than purchase another D200. This did leave me without a camera for a while but the day I get my hands on a new D300 is getting closer. Amazon will start shipping them on December 15th and I can't wait to get one.  There are several improvements but the one that is most important to me as a father of 2 lively kids is the greatly improved autofocus sytem with 51 rather than 11 autofocus areas. Besides making it a good kid capture device it will also allow for more flexibility in composing your shots while using autofocus.  You can read more about the camera here.

This service has regrettably been disabled. This message is purely being displayed as to not cause any damage to any website connected to this feature.