Dec 24, 2008 in Family, Kamil, Travel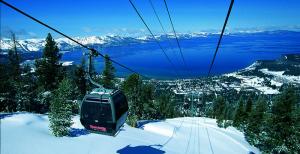 Two weeks ago before the first major snowstorm hit the Sierra Mountains we spent 3 nights in South Lake Tahoe with Ania. We had booked this trip a few months ago hoping that we'd be locking good rates in the middle of a prime skiing season, you know Sierras and DECEMBER. We were staying in the Heaveanly Village hotel about 20 yards from the gondola entrance and we left San Jose with our ski gear in the roof carrier (I even managed to stuff sleigh in there despite Ania's protests :)) aware of the poor skiing conditions yet hoping for a freak snowfall. Unfortunately nothing like that happened and there were only 4 lifts open at Heavenly… so instead of skiing we spent our time exploring the area that we thought we knew pretty well already and enjoying good local food and coffee in towns around LT. The first evening we hit a local bar that has survived the "yuppification" of the South Lake Tahoe where a local band was celebrating the birthday of one of its members. They had a guest saxophone player and despite there being only about 20 people at the bar a good time was had by all. We saw the same band 2 days later playing at the Hard Rock Cafe in one of the casinos and I think the singer did recognize us but we were on our way out having just finished dinner so we didn't get a chance to stay and listen, plus I find the Reno/Tahoe casinos somewhat depressing and not worth permeating your clothes and hair with the cigarette smoke.
We did not get to ski this trip but we did end up with two lift tickets to Heavenly so we will use them during a next trip with the kids. This time he kids stayed at home with my parents Maria and Joe occupying their time with some plays at the local kids theatre and baking cookies for Christmas :)
---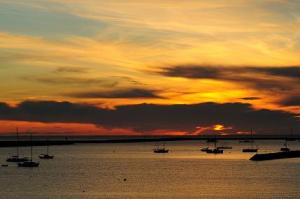 The second trip was a complete surprise to me (Ania secretly packed an overnight bag for us and the kids using the kids' ice skating with the grandparents as an excuse for taking the bag with us… clever) . I thought we were going out for dinner in Half Moon Bay with my parents and instead we spent a family weekend together. When we got there Ania directed me to
a small hotel
on the coast where it turned out we had a couple rooms booked to spend some quality family time to celebrate my birthday :) The room had a nice view of the ocean and I took a few shots of a sunset that I will post in the gallery soon (one of them is on the left here). After sunset we had a wine and cheese party at the hotel lobby and then headed out to a local restaurant in Pescadero.
The restaurant
was special because many months ago I had seen it on one of the programs on Food Network and it being local (more or less) I had noted its name and given it to my parents as a possible place for them to take visiting friends or family members when they are showing them the coast. Well, we all ended up at this place on Friday enjoying their famous artichoke soup and seafood :)