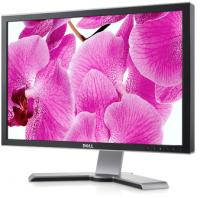 I've been using this monitor since October now and I couldn't be happier. This is a fairly inexpensive pro color reproducing monitor. It is based on S-PVA panel so it offers 8-bit color plus the viewing angles are so much better than the TN panels that are the most popular type used in LCDs these days. (6-bit vs 8-bit comparison article) I have tried Samsung and Gateway 24in panels which were TN based and I just could not live with the color shifting every single time my head moved a fraction of an inch. As I edit photographs and I sit fairly close to a monitor the color shift on a large screen is very noticeable. The CRTs do not suffer from that issue and a good CRT is still better at color reproduction than the cheaper LCDs. Also, unfortunately at this time there are no 120Hz LCDs offered for sale as computer monitors, so fast gaming performance is going to be Ok at best with any LCD, yes I have tried several and there is just no comparison between a LCD and a CRT that can be set to 120Hz refresh rate. Since I could not find a CRT anywhere online or in the brick and mortar shops anymore, and my gaming years are mostly behind me I opted for the best quality/value compromise I could find. Also the built in card readers mean the end of the flimsy dongle I used until now to transfer photos from my camera :) Sure there are $1200+ 24in LCDs out there that are based on the IPS panels that provide very good color reproduction but response time on those hovers at around 12ms which is quite a bit higher than the 2ms TN panels and the 6ms PVA panels.
To sum it up I'll quote from hothardware.com review that I have found just now trying to look up the specifications for this monitor:
If you're a photographer, digital artist, or just someone who really, really cares about image quality, there is unlikely to be many choices on the market which can provide you with a better experience than the Dell 2408WFP – simple as that.
and here are the specs:
24″ Display, 22.0″ x 8.17″ x 19.56″

21.74 Pounds

1920 x 1200 Resolution (WUGXA)

6ms Pixel Refresh Rate (GtG)

400 cd/m2 Brightness Level

3000:1 Constrast Ratio

110% Color Gamut

178º (Horizontal/Vertical) Viewing Area

2 x DVI-D, 1 x HD-15 Connectors

1 x DisplayPort, 1 x HDMI 2.1 Connectors

Composite, Component, S-Video Connectors

1 x Upstream, 4 x Downstream 2.0 Ports

Side Mounted 9-in-2 Memory Card Reader

VESA 100mm Support

Height Adjustment, Tilt, Swivel



This service has regrettably been disabled. This message is purely being displayed as to not cause any damage to any website connected to this feature.