A couple of weeks ago I have set up the Google Apps as the back end on this domain. I was fed up with the poor web mail that my hosting provides and using Google Apps gives me Gmail accounts hosted by Google on my own domain along with a lot more services (Google Docs, Shared Contacts, shared calendars and more). If you are family member please let me know and I can set you up with an 8GB Gmail account yourname@matyska.org . Sorry friends, this is only open to family members, besides if your last name is not Matyska why would you want an address on here anyway, I can help you set up your own on your domain name if you want :)
If you have your own domain name it is really easy to set up your own Google Apps. You will need to change a the MX records and some CNAME records with your host so make sure you are listed as the technical contact for your domain and have the ability to change that info. All of the instructions you need are available here: http://www.google.com/support/a/
I think this is  a great service for smaller companies as it offers a large mailbox and other applications for each employee at a fraction of the cost of Microsoft solution (There is also a free version available with a limit of 100 accounts, currently 8Gb instead of 25Gb storage per account and no phone support). I do not think that larger companies will go for it yet as they tend to be a lot more paranoid about security (whether their fears are justified can only be answered after careful analysis of  each individual situation).
Smaller companies however may be worried that they will need a faster internet connection to use Google Apps with more than just a handful of users but even considering this additional expense it is still cheaper than hosting your own Exchange server, paying for MS Office licenses and paying support for the hardware and the software. You also get that faster link for anything else you may want to do, your e-mail and documents can be accessed easily from anywhere without additional cost of remote access and you do not have to worry about maintaining your own infrastructure as you would in case of in house solution built on Windows or Linux. There is a tool available that will transfer your e-mail from Outlook to your new Google account if you are worried about keeping your old e-mails. You can use Google Apps as an e-mail only solution and the 25GB mailbox is something that a lot of corporate users would kill for (not literally :) ). The cost effectiveness of SaaS solutions will vary depending on the number of users and the type of services purchased but I believe it to be a better choice in almost every situation if security is not the primary focus of providing the service but rather cost and quality is.
List of services currently available through Google Apps:
Google Apps Services
Start page – Lets you easily create a unique, dynamic place for internal or external users to find relevant, essential information, preview their inboxes and calendars, and search the web. You customize the layout, header information and color scheme, as well as the page's default content, which can include Google Personalized Homepage modules, your organization's custom content and links, and RSS feeds. After users log in, they can further customize the start page so it's just right. About Start page
Email – Built on the idea that users should never be forced to delete mail because of a storage quota, and that finding that long lost memo that someone sent last year should be effortless and instantaneous. We've added a lot of other handy features too, including the ability for your users to exchange IMs with their contacts right in the browser. Tour of Google Mail *No audio
Chat – Enables your users to exchange instant text messages with their contacts and have voice conversations over the web, and it's completely free – users can connect with friends, family and co-workers all over the world without spending a dime. About Google Talk
Calendar – Helps your users easily organize all of their event-related information, including personal schedules, friends' and co-workers' agendas and public calendars that contain events they think are interesting. Your users can view all this information side-by-side, making it easier than ever for them to make plans with each other. Your organization can publish a master list of events and important dates, too. Tour of Google Calendar
Sites – Create sites to collaborate with teammates and organize all types of information as easily as you edit a document. Share calendars, docs, videos, photos and more with people at your domain, or publish them to everyone on the internet. Google Sites Overview
Docs – Web-based word processing and spreadsheet program that makes collaboration more efficient. It lets you keep a document online that others in your organization can edit and update simultaneously right from their browsers, so you don't need to keep track of attachments latest versions. Each revision is automatically saved for you, so you can see who changed what, and revert to an older version at any point. About Google Docs
Web pages – Creating and publishing simple web pages should be quick, easy and free. Google Page Creator lets you choose from a host of templates and customize them with your organization's content and images, all within a simple what-you-see-is-what-you-get online interface. When you're happy with how things look, publish your pages to the web with a single click. About Google Page Creator
Policy Management and Message Recovery – This package is provided by Postini, and allows administrators to have more granular control over spam, virus, and message filtering. Also, it gives administrators the ability to recover deleted mail. Learn more
And here's a table from the Google 2008 Annual Communications Intelligence Report that I link to below showing a cost comparison between an in house solution and a Software as a Service (SaaS) solution for email filtering solution, keep in mind that Google is in business providing SaaS products and they are the ones that analyzed this research and published the results:
"The following table, based on this research, compares the estimated cost of an appliance- or software-based email filtering solution with that of a SaaS-based solution in a typical 1,000 employee organization. The critical takeaway here is that many organizations only look at the up-front costs of the solution, rather than factoring in the total cost of ownership (e.g., maintenance, support, training, and other overhead costs). When these items are factored into the cost comparison, the advantage clearly rests with SaaS-based solutions."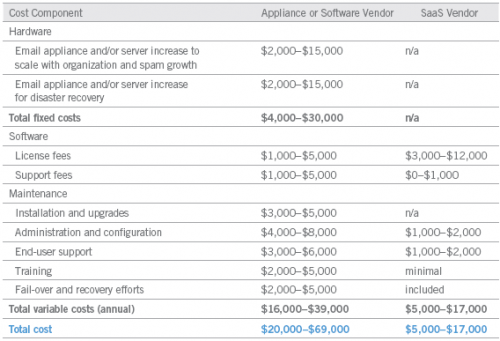 The large downside is security but there are ways to make this solution more secure by using certificates. Here is more information on General Google Privacy and Security Policies: http://www.google.com/support/a/bin/answer.py?answer=60762&topic=14595 and the Google Apps FAQ: http://code.google.com/apis/apps/faq.html
Also a couple of white papers on the security topic:
If you are having any problems setting this up please feel free to contact me and I'll help you out.